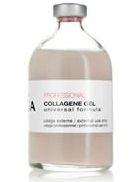 Fractionated molecules of collagen provide basic substances necessary for growth, regeneration and keeping the youth of tissues.
Moisturizing properties:
Collagen is a hydrophilic molecule that captures and binds water molecules, which directly contributes to the moisturizing and smoothing the skin. The harmful effects of external factors (UV radiation, smoking, alcohol, pollution) gradually destroy the structure of the skin which, combined with the natural aging process worsens its condition. Skin loses its firmness and elasticity, wrinkles start to appear. Collagen contributes to the reconstruction of the skin by providing it with the necessary protein.
Regenerative properties:
The gel provides the necessary substances to regenerate and replenish endogenous collagen. Collagen proteins are enzymatically converted into an amino acid with a low molecular weight compound that can be used to activate fibroblasts to produce collagen.