Reaction RF - kompleksowe odmładzanie twarzy i ciała
Reaction is an ultimate device in aesthetic medicine, aimed at advanced treatments for the face, neck and body. It allows performing therapy to focus on their action of improving the tension and elasticity of the skin, reducing wrinkles, modeling of facial contours, silhouette shaping and cellulite reducing, while improving skin firmness and functioning of the circulatory system.
Reaction - how it works
Reaction system is based on patented Core - Channeling Optimised RF Energy technology, which issues bipolar energy radio waves of three different frequencies and in a multi version, linking all frequencies in one of the treatment program - also in combination with vacuum treatment and cooling properties.
Core Technology - technology with a number of radio frequencies, working as a single or in combination, allowing for an optimized clinical results of the treated areas. This guarantees precise steering, wider penetration through the skin, with a higher concentration of energy.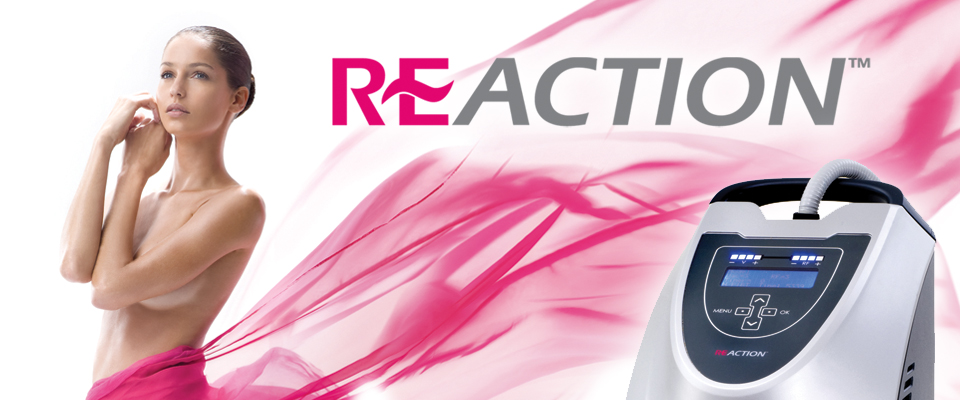 Reaction - kiedy stosować
Zabieg z wykorzystaniem urządzenia Reaction przeznaczony jest dla osób posiadających skórę dojrzałą, pokrytą zmarszczkami, która utraciła dawną jędrność. Terapia, koncentrując swoje działanie na poprawie napięcia i elastyczności skóry oraz redukcji zmarszczek, przywróci twarzy młodość i blask. Reaction wykorzystywane jest również do zabiegów ujędrniających i wyszczuplających górne i dolne partie ciała, takie jak ramiona, brzuch, uda czy pośladki.
Effects of reaction face treatments
deep skin lifting for face and neck,
reduction of wrinkles and furrows,
improvement of skin tension,
modeling of facial contours,
restoration of the contours along the jaw line and under the chin,
cheeks and chin lift,
elimination of flabbiness of skin on the neck,
reducing bags and shadows under the eyes.
Effects of reaction body treatments
silhouette modeling,
cellulite reduction,
improvement of firmness and skin tone,
restoration of normal circulation of blood and lymph,
improvement of cell metabolism,
strengthening the zones with stretch marks.
long lasting tension and skin firmness improvement,
rejuvenation of intimate areas.
Current promotions
Zabieg łączący bipolarną energię fali radiowej z masażem endodermicznym. Poprawie elastyczność i napięcie skóry, redukuje zmarszczki i przywraca twarzy młodość.
Promocja ważna do: 30.06.2020
In this category we recommend packages:
Package includes 5 visits (5 treatments)
5 * reaction refit
Reaction treatments help mothers regaining the body from before pregnancy. After the birth of the baby young mothers often face problems such as sagging belly, stretch marks and flabby skin. It is often hard for woman to reconcile with the
In this category we recommend treatments: