I-lipo - laser fat reduction
It stimulates metabolism, reduces body fat around the body by several centimeters after the first treatment!
I-Lipo is an innovative device that uses the energy of cool diode laser for bio-stimulation of natural metabolic channels and fractional reduction in body fat. This technology is a non-invasive, safe and secure way, that allows the loss of residual fat and modeling of the figure. The effects of the treatment are immediate and measurable already after the first treatment. The treatment is painless, accompanied by only a feeling of gentle heat.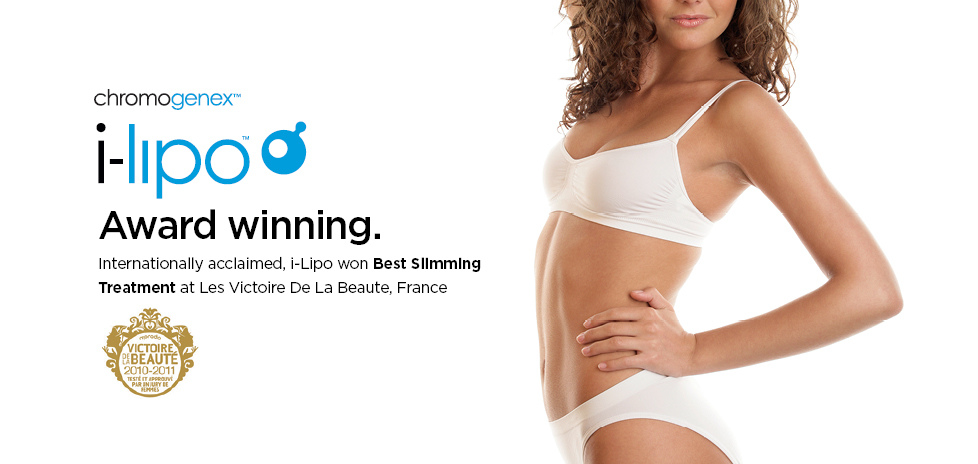 How does i-lipo work?
I-Lipo is a laser diode, using FFR waves of red light with a wavelength of 650-660 nm, which penetrates deep into the fat tissue to a depth of 9 mm and activate the breakdown of fat. I-Lipo causes reactions in fat cells, breaking down of triglycerides to glycerol and free fatty acids and removal of these unwanted metabolites through the open pores in cell membranes to the lymphatic systems. In further processes, our body converts these elements in the ATP molecules or energy, which our body uses during fast walking, running or other physical activity.
It should be emphasized that the I-Lipo is the only treatment, reducing the fat content of the cell without damaging it and without intervention of the surgeon. Acting on adipocytes does not destroy neighboring tissues and blood vessels, also does not injure cell membranes. I-Lipo can only be emptied in a controlled content of fat cells, thus reducing its volume.
I-lipo treatments
Treatments consist of the stimulation of selected parts of the body, using four heads emitting a laser beam. During the procedure, using a probe with bio-stimulating laser, lymph nodes are being activated to improve the transport of broken triglycerides with lymph. The treatment is painless and lasts, depending on the size of the treated area from 10 to 40 minutes. The series includes 6-8 treatments in the frequency of 2 times a week. On the day of the therapy, it is recommended to reduce physical activity to a minimum.

i-lipo Ultra
Przy usuwaniu cellulitu, dodatkowo wykonywany jest masaż próżniowy głowicą i-lipo ultra z technologią zimnego lasera 650 i 785 nm oraz drenażem limfatycznym. Wytwarzane w głowicy odpowiednio dobrane podcisnienie umożliwia dokładne rozmasowanie tkanki tłuszczowej, przedrenowanie limfy, rozbicie skupisk komórek cellulitu. Zimny laser o długosci fali 635 nm dziala na adipocyty opróżniajac ich zawartość. Druga wiązka laserowa o długosci 785 nm skraca rozciągnięte włókna kolagenowe, stymuluje do produkcji nowych połączeń i ujędrnia skórę. Masaż głowicą i-lipo Ultra poprawia ukrwienie tkanek, zmniejsza znacznie ilość cellulitu, drenuje nadmiar płynow oraz ujędrnia i modeluje sylwetkę.
Celebrities slimming
Read what said about I-Lipo procedure, the TV and theater star, as well as the young mother - Alżbeta Lenska.

In this category we recommend packages:
Zabieg i-lipo przynosi bardzo dobre rezultaty jeżeli wykonywany jest w serii. Pacjentom ze złożonym problemem nadmiaru tkanki tłuszczowej i cellulitu, polecamy serię 8 zabiegów i-lipo połączonych z masażem
In this category we recommend treatments:
Zabieg zmniejszający objętość komórek tłuszczowych przy użyciu lasera diodowego. Dzięki swojemu szerokiemu zakresowi działania I-lipo pozwala na kompleksowe modelowanie sylwetki. Metodę tę wykorzystuje się do redukcji tłuszczu
Zabieg głowicą zasysająco-modelującą z technologią zimnego lasera, która zwiększa redukcję tkanki tłuszczowej, poprawia drenaż limfatyczny i usprawnia krążenie krwi wspomagając likwidację cellulitu.
Zabieg i-lipo połączony z masażem głowicą i-lipo ultra pozwala nie tylko na redukcję tkanki tłuszczowej, ale również redukcję, a nawet likwidację cellulitu.